Case Study
Ultimate Ears X 35mm Co Team Up to Target Gen Z
Interact with us!
Simply click and drag your
cursor over a passage of
text from the article below
to tweet or share.
THE SITUATION
Australia's go-to portable speaker brand, Ultimate Ears launched its first speaker in over two years, the WONDERBOOM 3.
An evolution of the WONDERBOOM 2, this next-generation speaker features a new, expressive colour range and is made with 31% recycled plastic.
THE BRIEF
A brand with significant staying power within the Australian market, UMM was entrusted with persuading Gen Z—a new, younger generation of music lovers—to purchase a WONDERBOOM 3.
Ultimate Ears sought to create excitement for the new product launch while maintaining brand relevancy in the lead-up to the key holiday and gifting period.
UMM was tasked with embodying the global campaign tagline 'Let It Out' locally.
THE STRATEGY
What does 'Let It Out' mean to Gen Z? Driving down the highway with music blasting, getting outdoors in nature, expressing yourself through dance or maybe even screaming into your pillow. Our strategy was to embody the spirit of Letting it Out through our social and influencer campaign, celebrating authenticity and liveliness.
True digital natives, Gen Z are no strangers when it comes to social and influencer advertising content. That meant that we had to devise a way to infiltrate Gen Z social feeds in a way that felt genuine for both the brand and our target audience. We looked to the trending content styles of the moment to see how Ultimate Ears could capitalise in a way that translated across Instagram, Facebook and TikTok, was natural for both brand and influencer channels all while keeping the 'Let It Out' tagline in mind.
Film photography has had a huge resurgence amongst Gen Z, with the fun, nostalgic and spontaneous nature of developing a roll of film appealing to a generation fatigued by digital tech. 'Photo-dumps' are another trending content format amongst Gen Z, going hand-in-hand with the film photography renaissance and all tying back to this longing for authenticity online. Adopting this content style became a key part of our strategy.
We sought out a brand partner that aligned with the #LetItOut mantra and the Ultimate Ears' brand identity in Australia to further amplify our reach and reinforce brand relevancy. The brand partner had to be culturally relevant and meaningful to our target audience – Gen Z.

@allaboutadventure
@georgenield
@georgenield
@melbournewithviv
WHAT DID WE DO
We established a partnership with Australia's favourite sustainable film camera brand, 35mm Co to help celebrate living to the fullest, creativity, being social, authentic and letting go. The alignment with 35mm Co was a perfect fit with their brand ethos mirroring Ultimate Ears' seamlessly. 35mm Co is "all about keeping memories alive: those faces, places, feelings and iconic stories that make a life". We leveraged the partnership in both the content creation as well as hosting giveaways on both 35mm Co and Ultimate Ears channels.
Seven micro to mid-tier lifestyle and travel creators were selected to showcase an array of ways they #LetItOut during the Australian Summer with music. We enlisted creators to capture candid moments on their 35mm Co film camera and create a 'photo dump' style video suitable for Instagram Reels or TikTok. Talent included Vivien Teh, Joel Bryant, George Nield, Freya Prout, Andy Davie, Shayley Carter and Jamie and Camille.
We ran a social campaign on the local Ultimate Ears' ANZ Facebook channel, advertised across Instagram from mid-November right up until Christmas eve—prime time for holiday shopping and gift buying. The social content mix included a suite of influencer videos and statics alongside three giveaways.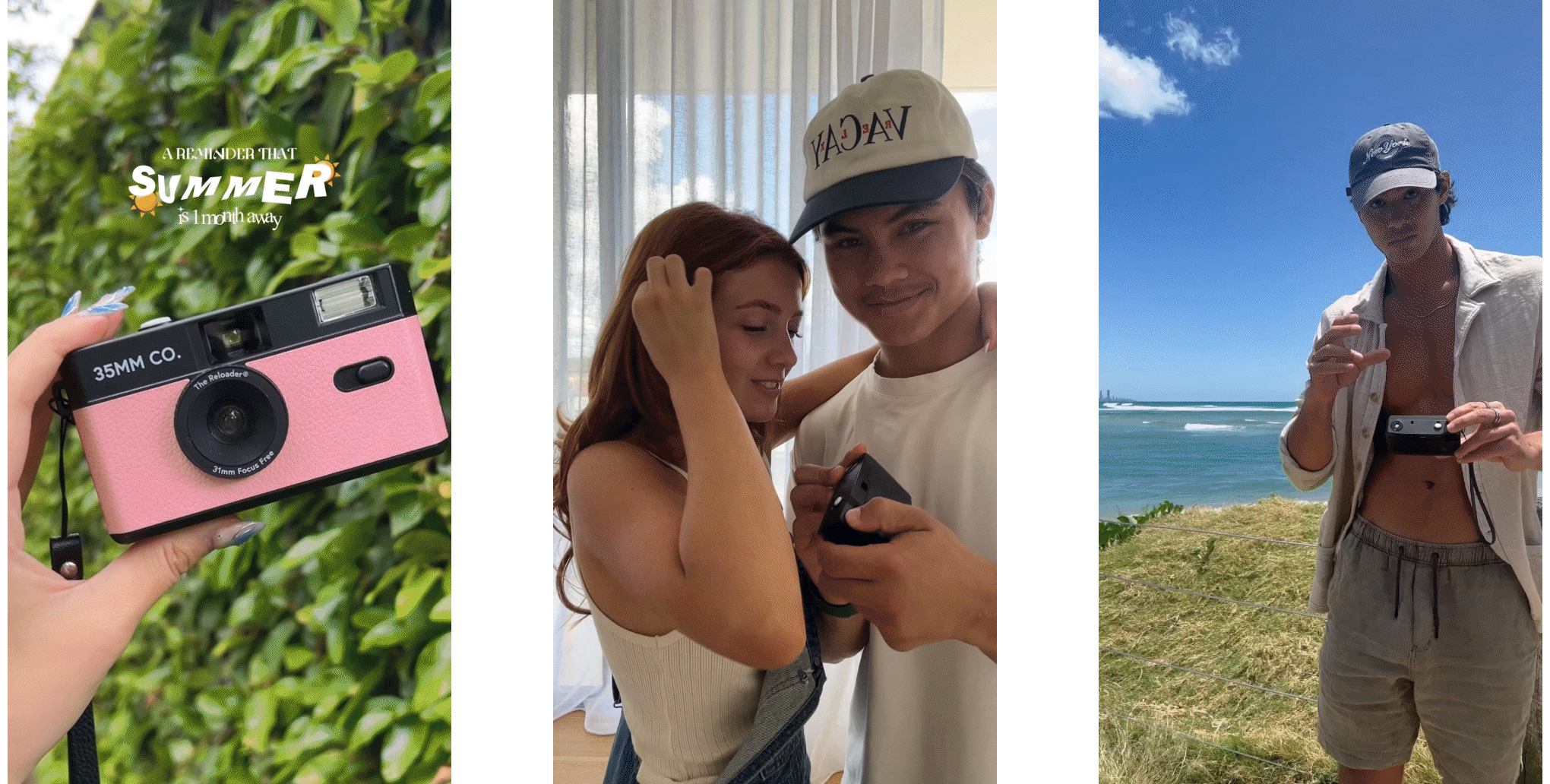 RESULTS
The content created throughout the campaign aligned with trending content formats amongst our target Gen Z audience. It felt fresh, youthful and truly embodied the Ultimate Ears' brand identity, as well as the campaign tagline #LetItOut. The content has since been repurposed globally.
The influencer campaign amassed a total audience of 175.7K, reaching 87.8K accounts across Instagram and TikTok. The content of this campaign garnered a highly engaged reception, resulting in a strong campaign engagement rate of 49.81%.
Throughout the course of the six-week social campaign, we reached 1.98M people, generating 2.50M impressions and gathering 349.44K engagements. This generated an overall social campaign engagement rate of 17.64%.
In the market for a creative comms solution? You're in the right place.
Click here to get in touch with our team.