News
An Enchanted Evening With ILVE Appliances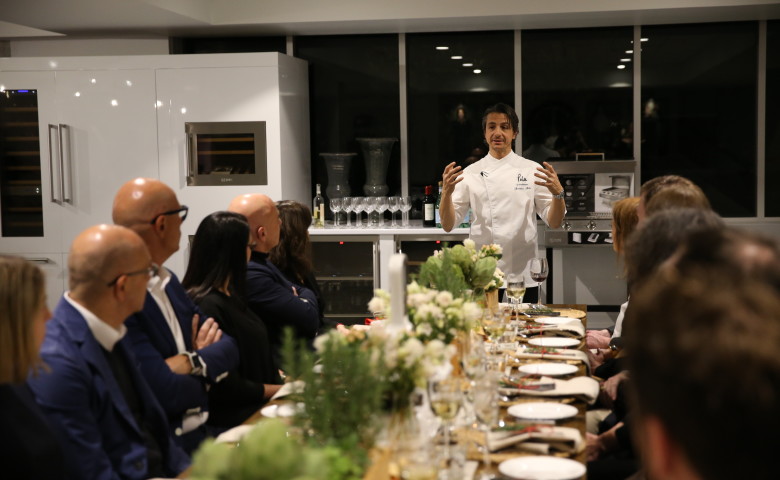 Tags
PR Agency, PR Agency event
Interact with us!
Simply click and drag your
cursor over a passage of
text from the article below
to tweet or share.
Earlier this month, UMM, ILVE's longtime PR Agency, co-ordinated an exclusive and intimate dining experience at ILVE's Sydney Showroom.
The dinner, held on July 6, was co-hosted by ILVE and friend of brand Giovanni Pilu (owner of Pilu at Freshwater). Chef Pilu created a contemporary Sardinian menu – with matching wines – for a dozen esteemed media guests, including the editors of Vogue Living, Inside Out, Belle, and Habitus. Journalists from Delicious, Australian Gourmet Traveller, Appliance Retailer, Grand Designs Magazine, Home Beautiful Magazine Australia, Real Living Magazine, and Home Design Magazine were also in attendance. This exclusive guest list was devised by ILVE and UMM, who have worked with Eurolinx [the Australian distributor of ILVE] for the past eight years.
Giovanni introduced the exclusive menu to guests, which included some of his favourite Italian dishes – inspired by his childhood in Sardinia. Guests were granted a unique taste of the very same dishes Giovanni crafts at home with his own ILVE appliances – his favourite being the ILVE Freestanding Oven with Teppanyaki Plate, FYI.
This sumptuous activation gave Eurolinx Managing Director, Jamey Colbert, and Brand Marketing Manager, Daniel Bertuccio, the opportunity to thank media partners for their longstanding support, celebrate ILVE's partnership with Giovanni, and introduce media to the brand's latest innovations. Among the latter was ILVE's long-awaited built-in oven range, as well as the unique custom coloured oven offering – selected products are available in over 2,000 shades!
ILVE Managing Director, Carlo Illotti, and ILVE Export Manager, Antonio Ruffatto, from ILVE Italy made a guest appearance at the exclusive brand event, and greatly enjoyed hearing about the popularity of ILVE among design-conscious Australian media and Australians.
UMM looks forward to more brand-PR agency collaborative activations in future – especially if they're this delicious!
ILVE Dinner Party Menu 
First Course
Fregola "risotatta" nettles, almonds, lemon and Scarlett prawns.
Main Course
Rainbow Trout, garlic cream, rainbow chard and bottarga.
Dessert
Domori dark chocolate delice, almonds and sheep's milk yoghurt.
Check out a gallery from the evening on ILVE's Facebook Page.
Photos: Attila Szilvasi