News
Jo Gluhak — Surviving Stage IV Melanoma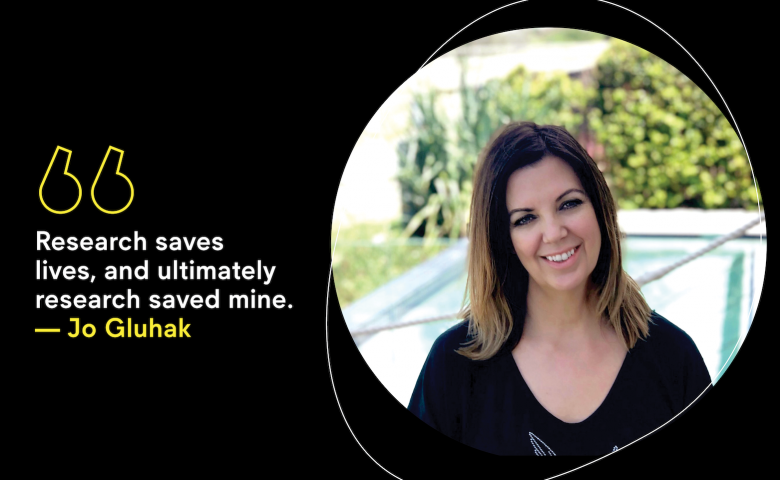 Interact with us!
Simply click and drag your
cursor over a passage of
text from the article below
to tweet or share.
Stage IV Melanoma survivor personally advocating for fundraising for the Australian institute that saved her life—and we are listening.
"Research saves lives, and ultimately research saved mine." — Jo Gluhak
Odds are, if you grew up in Australia, you or someone you know has been affected by some type of skin cancer, including the most deadly, Melanoma. Often referred to as Australia's national cancer', did you know our country has one of the highest rates of Melanoma in the world?
Friend of UMM, Jo Gluhak, out-of-nowhere was diagnosed with Stage IV Melanoma in 2018 and is sharing her story in an effort to raise awareness and personally advocate for the Melanoma Institute Australia (MIA).
"I first realised something was wrong when I was walking to work one day in Sydney and was unable to cross the Darling Harbour pedestrian bridge without stopping to catch my breath every 40 metres. A blood test discovered severe anaemia and more shockingly a chest X-ray discovered a lesion in my lung. Without warning and out of nowhere, I was facing a shocking and terrifying diagnosis of Stage IV Melanoma (unknown primary)." 
Going from working in a top management position to battling a life-threatening illness, Jo's story depicts the merciless reality of this deadly disease—but this story is one of hope.
As Director of Marketing & Publicity at Sony Pictures Television Australia, Jo has been working closely with our founders and agency for 5 years. A true industry leader and a much-valued colleague who constantly pushes innovation, Jo's story is nothing short of incredible and is a testament to the amazing work of the MIA. A decade ago, the same diagnosis would have been a death sentence, but thanks to Jo's determination and commitment to healing through various avenues, along with the incredible team at the MIA, whose treatment advances now provides previously unavailable options, she had a complete metabolic response to treatment. This came after more than a 2-year long battle. To go from a potentially defined and shortened lifespan to a promising future is truly remarkable. 
It is expected that 16,000 Australians will be diagnosed with Melanoma this year alone. That means one Australian is told they have Melanoma every 30 minutes. Melanoma doesn't discriminate—impacting all age brackets, it is the most common cancer affecting Australians aged 20 to 39. The next person diagnosed with melanoma could be your friend, your family, your partner, your child… or even you and that's why the work that the MIA does is so important.
The MIA pioneers advances in Melanoma research and treatment, making a tangible impact on the lives of patients today. A non-profit organisation dedicated to preventing and curing Melanoma through innovative, world-class research, treatment and education programs, the work of the MIA has meant that more Aussies diagnosed with late-stage Melanoma have a fighting chance for survival.
This March, Jo is participating in her fourth Melanoma March, campaigning to fundraise money for the institute that saved her life. Melanoma March celebrates MIA's major annual fundraising campaign, with all proceeds raised in 2022 going directly to a world-first clinical trial of a Personalised Immunotherapy Platform that could transform cancer treatment across the globe and ultimately save many thousands of lives.
I have been a proud supporter of Melanoma March since 2019 when I took my first steps in support of MIA's critical fundraising for life-saving research. At the time I was participating in a clinical trial having been diagnosed with Stage IV Melanoma (unknown primary) some months earlier. That initial treatment was the beginning of a roller-coaster process that was filled with challenges and hurdles as well as wins and triumphs when I eventually received the news in 2021 that I had a complete metabolic response.
Without the advances in treatment options that MIA has achieved in recent years, from their many research endeavours, I may not have experienced this outcome and I am so grateful to the MIA.
The impact of my diagnosis and outcome has irrevocably changed my life. I will never forget the role that MIA has, and continues to play in my life and the lives of all of us in the Melanoma community.
— Jo Gluhak
If you would like to donate to Jo's fundraising efforts and directly help the MIA develop life-saving treatments, head here: https://bit.ly/MelanomaMarch2022