Case Study
Tsingtao Be Bold Activation
Tags
Activations, Creative, Influencer Branding, Social Media
Interact with us!
Simply click and drag your
cursor over a passage of
text from the article below
to tweet or share.
OBJECTIVES
The first year of Tsingtao Be Bold aimed to build on their Lead The Pack Campaign, with the overall campaign objectives being: create brand awareness for Tsingtao and the Tsingtao Be Bold sub-brand; entertain the target demographic (males, aged 25 – 35, in Sydney and Melbourne), with positive word of mouth implications; drive sales and promote the on-case Instant Win promotion; seed out the Tsingtao Be Bold branded content video, promoting the end-of-campaign activation; create an event like no other in Sydney with engaging and unique selling points that would introduce Tsingtao and the Be Bold philosophy to media and industry; and provide another media opportunity for Tsingtao to publicly align with brand ambassador Ronny Chieng.
In short, it would be all about hyping up the Ronny Chieng-MC'd Tsingtao Be Bold Party and then bringing the brand to life through an event that was by turns strange, spectacular and Bold!
″In short, it would be all about hyping up the Ronny Chieng-MC'd Tsingtao Be Bold Party.″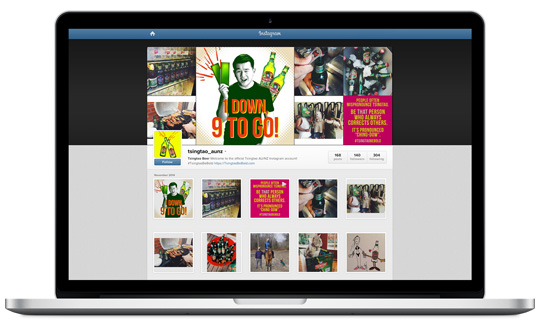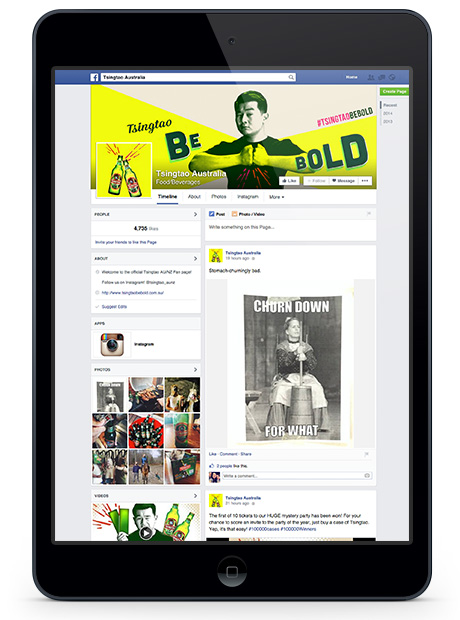 STRATEGY
Following the success of Lead The Pack, Chinese-Australian comedian and brand ambassador Ronny Chieng was retained as the face of Tsingtao – and fittingly so, given his propensity to Be Bold in his thoughts, words, and actions when onstage. This is a man who owns the moment by speaking the truth in a witty yet WTF fashion. It is no coincidence that Tsingtao Be Bold's comms echoed this tone of voice and sense of humour.
From the October outset of the campaign, Ronny would appear on the case in the context of the campaign's Instant Win promotion, while he would officially conclude the campaign at the Tsingtao Be Bold Party. The campaign narrative would begin with the case (conceptualised and designed by UMM's Creative Department) hitting shelves iand end with the party. In between there was a flurry of different brand ventures, from the comical Tsingtao Food Porn to the community-pleasing AFC (Asian Football Confederation) ticket giveaways to the cool event sponsorships – be it a local Halloween house party or a Glue Store shindig or a grimy gig or the MAXIM Australia Valentine's Day Party.
Ronny featured in a branded content video (scripted and produced by UMM) – also featuring Tsingtao's irrepressible lady-in-red, Maureen – that kicked-off the campaign and teased the party in a curious fashion. This video was embedded on the Tsingtao Be Bold campaign website (where entrants of the on-case promo went to claim their prize) and also strategically seeded out to multiple websites of interest to the core demographic.
Ronny was also a vital part of the social media strategy, which was largely reactive and capitalised on pop culture happenings and subverting online trends. While quite freeform in structure, this branded content series established the tone of Tsingtao Be Bold, utilised Ronny in a distinct way that suited his onstage persona, and set the table for the party to come – not to mention the campaign.
The Tsingtao Be Bold Summer Campaign ended on February 28, and the official party occurred on March 24, under a cloak of secrecy. Upon arrival at Dynasty Karaoke, in Sydney's Chinatown, guests were subjected to a sensory overload and a proliferation of Tsingtao. Some of the party highlights included: MC and brand ambassador Ronny Chieng, UV lights, body-painted promo models, taxidermy animals, beatboxers, Insta-sensation Kurt Coleman, a contortionist with a hula hoop, a woman dancing with an angle grinder on her crotch, a room full of Tsingtao-green balloons, free merch, heaps of karaoke, AND the mysterious Maureen, clad in red latex and ready to (playfully) whip anyone who mispronounced "Ching-dow"!
Product shots: just one of a few content pillars on the Tsingtao Instagram account
Pop culture parodies – this post mocked the Jaws movie poster – were another Instagram trope
Tsingtao's followers are pop culture savvy, so this kind of content speaks to and with them
"All work and no Tsingtao makes Jack a dull boy." This time we made fun of The Shining
Sometimes the account ventured into weird territory, as in the cases of faux-tattoos and a ram wearing a bow tie
Static imagery was a success, but the account also used animation to further demonstrate the possibilities of branded content
RESULTS
Total 'Tsingtao Be Bold' Video Views: 495,696
Total Entries For 'Every Case Wins' Comp: 10,341
The party guest list was comprised of a combination of media and 'The Bold'. This included crews from triple j, MTV, Oyster, and The Brag engaging with tattoo artists, barbers, bar owners, upmarket adult entertainment store owners, psychics, fashion designers, and models – and they jammed Dynasty Karaoke to capacity. These diverse guests all boasted strong social media followings but, more importantly didn't just talk bold, they acted bold. As a bonus for attendees, for every photo guests uploaded to Instagram with #TsingtaoBeBold, a branded polaroid was printed out for them to take as a keepsake. On the night, there were 188 #TsingtaoBeBold usages, with the top 10 influencer posts generating over 16K engagements.
Check out the Event Gallery here, on the official Tsingtao AU/NZ Facebook account.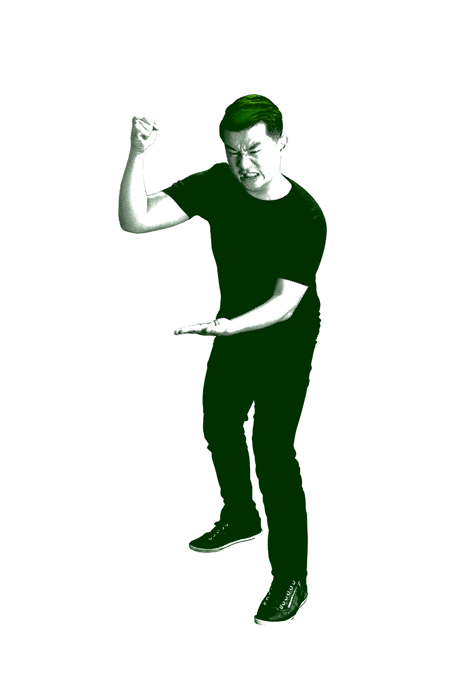 Ronny and Tsingtao's red latex-clad friend Maureen at the TBB Party
Balloons and booze are two key ingredients in a bold night out
It wasn't all craziness: some people opted to chill on the couches at Dynasty Karaoke, Sydney
Maureen made a lot of new pals during her stint commandeering the media wall
Influencer Lauren Winzer in selfie mode; turns out angle grinders are good for more than just metalwork
The Tsingtao Be Bold painted promo team prowled the party and took selfies with guests