Case Study
Master Creative: Logitech G AP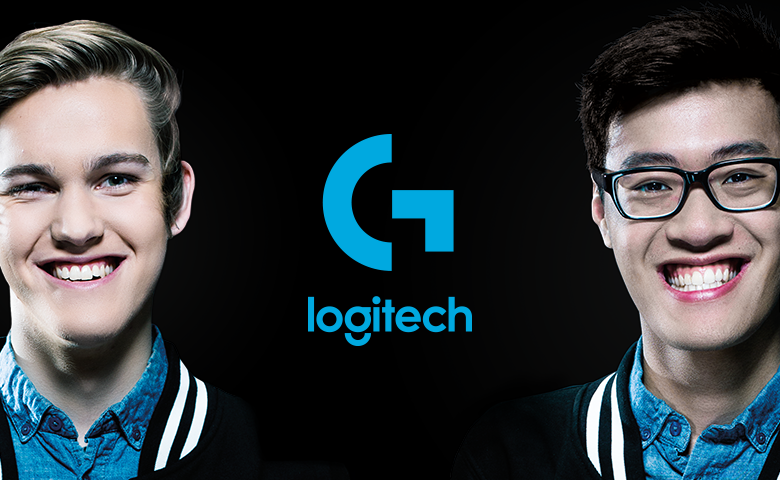 Tags
Brand Awareness, Creative, esports, Gaming, Logitech G, Master Creative
Interact with us!
Simply click and drag your
cursor over a passage of
text from the article below
to tweet or share.
In September, UMM won a global pitch to  undertake the Master Creative for three of Logitech G's seasonal campaigns. Subsequently, UMM was assigned the task of conceptualising and developing the Master Creative for the Game With Passion 2.0 (GWP 2.0) campaign. Both suites of Master Creative would be implemented across the entire Asia-Pacific region, comprising 14 territories in total: China, Japan, Australia, New Zealand, Korea, Hong Kong, Taiwan, Singapore, Malaysia, Thailand, Indonesia, Philippines, Vietnam, and India.
The overall objectives were diverse, ranging from: building brand awareness; consolidating the Logitech G brand ethos ("Game with passion. Win with science."); leverage the brand's leadership in mice sales to drive keyboard awareness; align even more so with professional eSports teams; create consistency in brand messaging between online and offline environments; and, of course, to increase sales from the previous financial year.
″In Asia especially, eSports and its players are highly revered, so the creative would need to capture and reflect this regional sentiment.″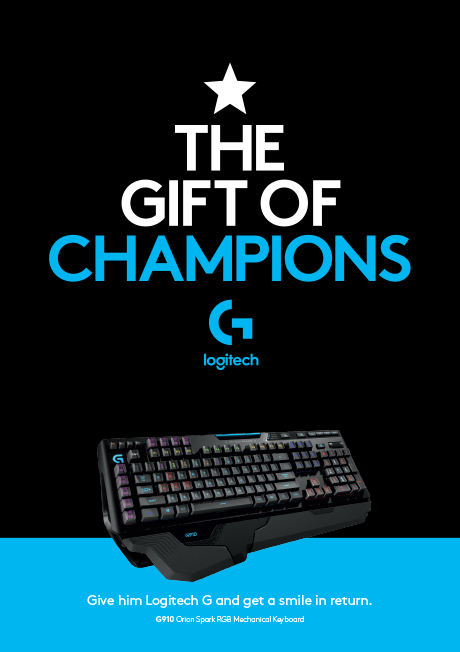 Christmas (Left) and New Year (Right) Master Creative.
'The Gift of Champions' Online Promotional Landing Page.
'Happy New Gear' Point of Sale Display.
Christmas (Top) and New Year (Below) Online Banners.
Christmas Point of Sale Display, and accompanying social media post.
The first step in the development of both the seasonal and the GWP 2.0 Master Creative was the distillation of the brief and analysis of the brand style guide. Prior to ideation, parameters needed to be established and the project itemised. One standout parameter was that cultural considerations needed to be taken into account i.e. copy and imagery that may work in Australia may not be so apt in Hong Kong.
UMM would need to provide Master Creative (including an overarching campaign tagline and challenge statement), online and offline assets, and social media assets (both static and dynamic) for both campaigns.
After mapping the Consumer Journey, from the development of the Master Creative all the way to Point of Purchase, the actual Creative process commenced – multiple options were brainstormed, conceptualised, tested, and were then provided to the client for feedback.
While the development of creative was the priority, it was, as with all projects, crucial to adhere to the parameters established at the outset. For instance, does the creative function as a 360-degree integrated communications campaign? In other words, are the offline assets (planograms [in-store retail displays]) consistent with the online assets (banner ads, online landing pages, social media content)?
On an identity level, Logitech G is a gaming brand, no doubt, but it is, overall, a lifestyle brand. Hence, does the creative speak to/engage/influence the purchasing decisions of gamers and eSports players, for whom gaming is a passion, if not a career? In Asia especially, eSports and its players are highly revered, so the creative would need to capture and reflect this regional sentiment.
The final strategic hurdle would be to inject something new into an established and reputable brand. After assessing the various cultural landscapes, integrated requirements of the campaigns, target demographic (amateur and pro male gamers, aged 18–30), and existing brand identity, UMM was in a strong position to execute creative that would build the Logitech G brand and add colour (via visuals and copy) to previously conservative and straightforward comms. Like with any confident sports-lifestyle brand (and eSports is very much a legitimate sport), the Logitech G creative utilised the potent combination of emotion, inspiration and aspiration to express core brand messages.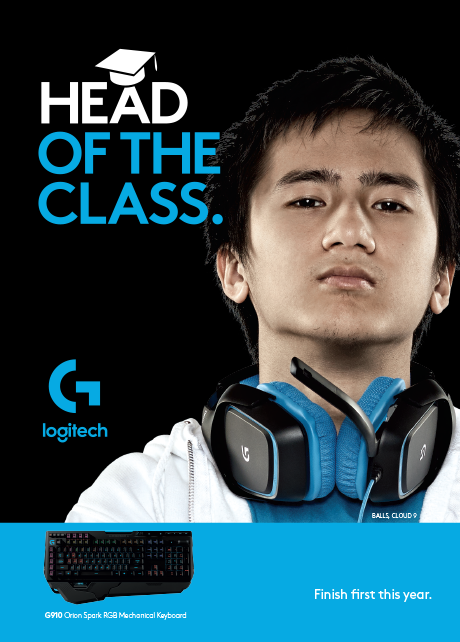 'Head of the Class' Online Landing Page.
Back To School Online Banners.
Below are some of the final creative pieces, which have already appeared in multiple territories with notable success. Three seasonal campaigns (Christmas, New Year, Back To School) have been rolled out thus far, with the overarching campaign (Game With Passion 2.0) still to come.
'Happy New Gear' post on Logitech Indonesia's Facebook page.
Logitech Indonesia's G502 RGB Facebook post received 15K+ engagements!
Likewise, Malaysia's G502 RGB Facebook content was well-received, with almost 7K engagements!
This post on the Logitech Singapore account sparked online conversation.
As in Indonesia, the Malaysian Facebook community went crazy for the G502 RGB!