Case Study
UGG Australia King St Launch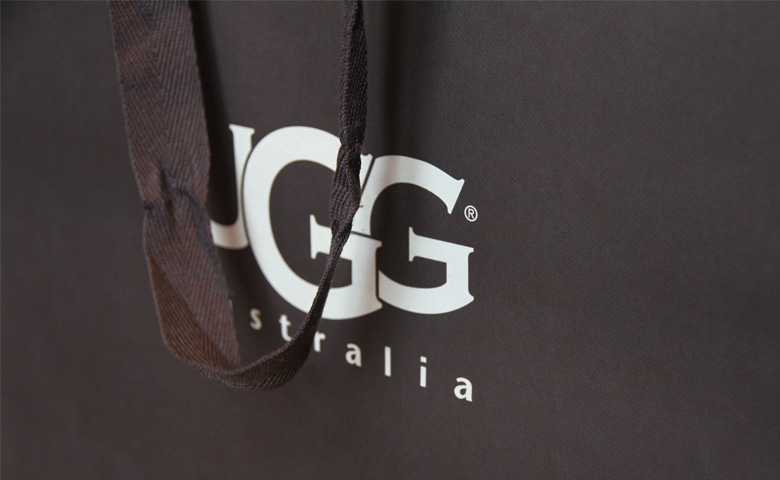 Tags
Activations, Creative, Influencer Branding, Public Relations
Interact with us!
Simply click and drag your
cursor over a passage of
text from the article below
to tweet or share.
OVERVIEW
Iconic global brand UGG AUSTRALIA appointed UMM as its Australian PR Agency in August. At this time, it was announced UMM would play an intrinsic role in launching the brand's largest Sydney flagship retail space in the Sydney Arcade, King St, Sydney. The event would coincide with the introduction of UGG AUSTRALIA's Home (soft furnishings) and Lounge (apparel) collections.
″The event was an unqualified success, with almost 200 media, VIPs, and celebrities in attendance.″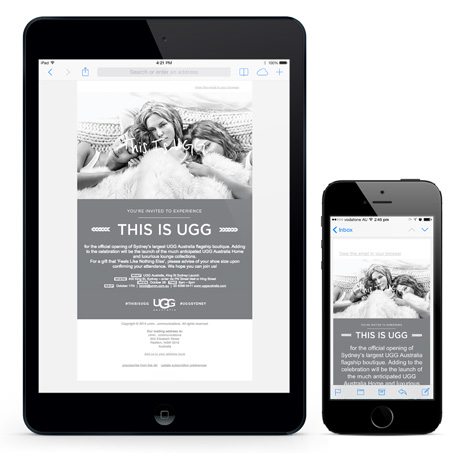 STRATEGY
All elements of the experience were taken into account: catering, entertainment, styling, invites, gifting, and event execution.
UMM crafted two beautiful EDM invites – official invite and reminder – that aligned in tone and aesthetic with UGG AUSTRALIA's newest global campaign ("This Is UGG").
To capture the attention of key media and celebrities, UMM asked invitees for their shoe sizes upon RSVP (for collection on the evening). To ensure attendance from our top tier of 20 hand-picked media and influencers, UMM conceptualised a novel gifting tactic: one Classic UGG Australia Boot was sent to the VIP in a customised box, with a note cheekily advising guests they could collect the second half of the gift – the other boot – at the launch.
UMM selected popular DJ act The Faders to play at the event, organised all equipment required, and facilitated the bump in and out of this element.
VIPs were sent one Classic UGG Australia Boot and advised they could collect the other at the launch.
The new global campaign, "This is UGG", was given a big push at the launch of the Sydney store.
Almost 200 guests attended the luxe launch event.
Among those guests were talent from The X-Factor and Big Brother.
Entertainment was provided by international DJ duo The Faders.
The activation was a great success, with 27 resultant pieces of coverage and 150 social media posts about the event.
RESULTS
Pre-event, the custom VIP boxes resulted in the desired traction, with recipients posting photos (with #UGGAUSTRALIA hashtags) on their Instagram accounts, sparking interest and engagement.
The event was an unqualified success, with almost 200 media, VIPs, and celebrities in attendance. This success can be attributed to UMM's exclusive contacts, unique sampling/invite concept, and the positioning and magnetism of the UGG AUSTRALIA brand. UMM hosted media and VIPs all evening, acquainting them with the brand, its history, and its client representatives.
Celebrities who attended included: Tim Dormer of Big Brother; Demi Harman & Philippa Northeast of Home & Away; singer Brock Jays of What About Tonight/The X-Factor; Jye Emdur (model/socialite), Olympic Swimmer Leisel Jones, radio and TV personality Sam Mac, Tee Ofisa Toleafoa of The X-Factor, and Teigan Nash of Saturday Disney.
Media titles that attended included: Vogue Living, Oyster, Cleo, Dolly, Real Living, Home Beautiful, The Sydney Morning Herald, Voyeur, Women's Health, Renegade Collective, Where Magazine, InStyle, Inside Out, and Men's Fitness.
Popular bloggers that attended included: Interiors Addict, Man Of Many, Rogue Homme, Piez Loves, Styled Levi, The F.
UMM locked 27 pieces of coverage and over 150 social media posts relating to the event. Coverage included editorial regarding the store opening, product, and appearances in social pages (online & print and blog posts), along with a variety of Instagram, Facebook, and Twitter posts.