Case Study
Ultimate Ears BOOM 2 Global Launch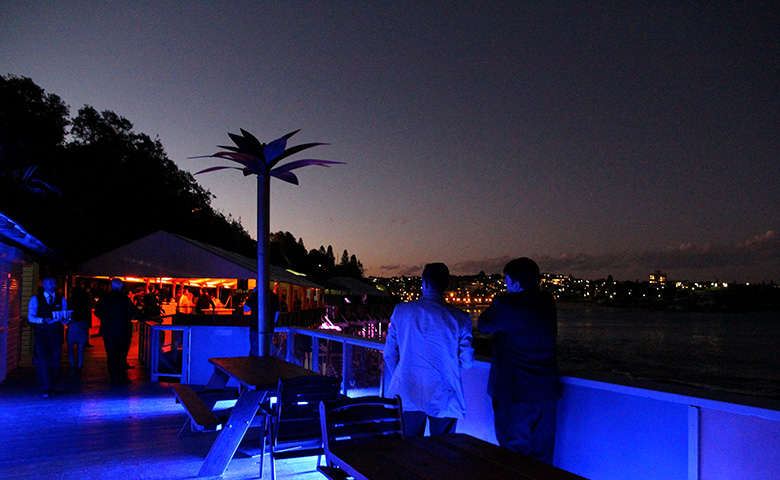 Tags
Activations, Influencer Branding, Public Relations
Interact with us!
Simply click and drag your
cursor over a passage of
text from the article below
to tweet or share.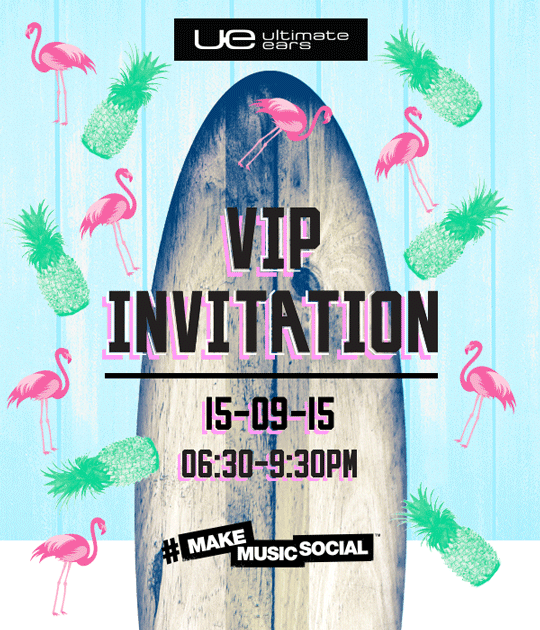 BRIEF
After two wildly successful global product launches prior to this, UMM was once more employed to conceptualise an interactive media event to showcase the global launch of the Ultimate Ears BOOM 2, with the theme of 'Retro Beach Party'.
The key objective was to promote the Ultimate Ears BOOM 2 to lifestyle and technology media as a must-have lifestyle accessory that was an innovative upgrade from the Ultimate Ears BOOM. While at the event, the unique functions of the Ultimate Ears BOOM 2 were to be highlighted, such as it being waterproof, the gesture control functions, and a 25 per cent increase in volume over the existing model. Guests would also be informed of the 15-hour battery life and 30m wireless range, which further separate it from its predecessor and from rival speakers on the market. Finally, the event would be used to increase awareness of the Ultimate Ears brand and the Ultimate Ears BOOM 2 itself via owned and earned social media, plus pre- and post- event press.
″The main feature of Wylie's Baths is the rockpool, inside of which UMM installed a gigantic illuminated equaliser that synced with the music being played by the DJ.″
MTV Australia's Krit is the filling in a promo model sandwich.
Blogger Lisa Clark and vlogger Jack Rich.
Home and Away's Alec Snow and Tai Hara.
Meghan and Dominic Loneragan from CITIZENS OF THE WORLD.
Selfie superstar Kurt Coleman.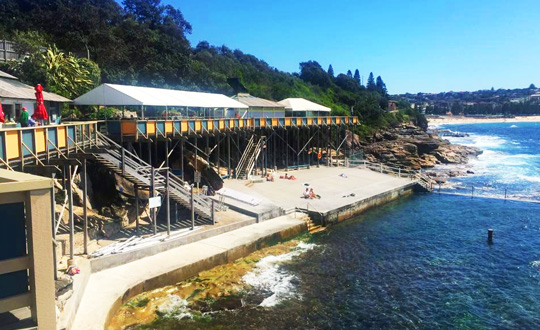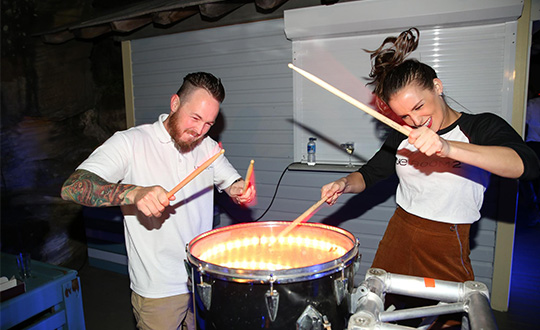 STRATEGY
With pre-existing knowledge of how to create an Ultimate Ears-centric experiential environment (featuring interactive installations to get guests involved and engaged) from the two prior global launches, UMM's Activations Department selected a beachside venue – Wylie's Baths, Coogee – and went to work.
On the night, guests would pose at a media wall set up outside the venue (with branded surfboards to capture the essence of the theme), then enter and be met with both a glass of wine and a breathtaking coastal view.
Promotional models would walk around with units and educate guests about its new features, such as gesture control, waterproofing, extended battery life, and increased volume over the previous Ultimate Ears BOOM. These advancements were italicised in a speech from John Paterson, Regional Category Manager for Logitech.
The main feature of Wylie's Baths is the rockpool, inside of which UMM installed a gigantic illuminated equaliser that synced with the music being played by the DJ. Also serving as entertainment was a drum kit that lit up upon being hit; this embodied the fun spirit of the brand and provided an interactive link back to the "Tap It" Gesture Control functionality of the Ultimate Ears BOOM 2.
At the event's conclusion, guests were given a Retro Beach Party double- surprise: soft serve from an ice cream truck, plus their very own Ultimate Ears BOOM 2! This was an immense sampling success, and a tasty way to end the night!
This global launch also saw an alignment with fellow UMM client Zonin Prosecco; fruit cocktails were served throughout the night to all guests.
This is a game called: How Many Influencers Can You Get In One Photo?
UMM Joint Managing Director Nikki Stevens, UMM Head of PR Jaala Mills, and Logitech Australia Country Manager, Damian Lepore.
Sound check, with the energetic UE Promo Models.
MAXIM Australia's Michael and Natalie Downs, and Famous Deputy Editor Kristie Lau.
Logitech Australia Country Manager, Damian Lepore, delivers his keynote address about the UE BOOM 2.
Caroline Hogarth tucking into a post-event soft serve.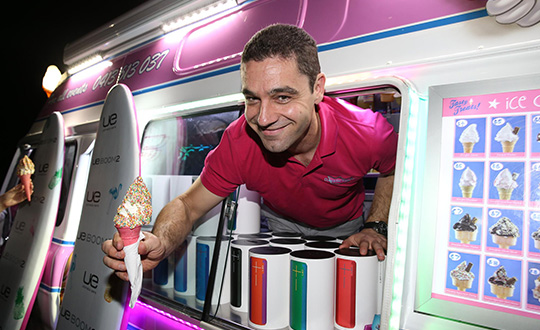 RESULTS
The global launch was attended by 270 guests, which, in the 24 hours following the activation, resulted in 32 hits/pieces of coverage (media/ influencer social posts and editorial) and a total of six pieces of coverage in hit list titles. Total PR reach was 50,200,394; total social reach was 641,492. The total volume of social engagements was 3,363, comprising 143 hashtag usages.
Another benefit of the event was attendance by key retail partners, which further forged the relationship between the marketing and sales teams and retail and buying partners.
The UE BOOM 2 launch was a very Insta-friendly affair.
Troy Pes may have forgotten his shirt, but he remembered his UE BOOM 2!