News
The FOTSUN Never Sets
Tags
Public Relations, Social Media
Interact with us!
Simply click and drag your
cursor over a passage of
text from the article below
to tweet or share.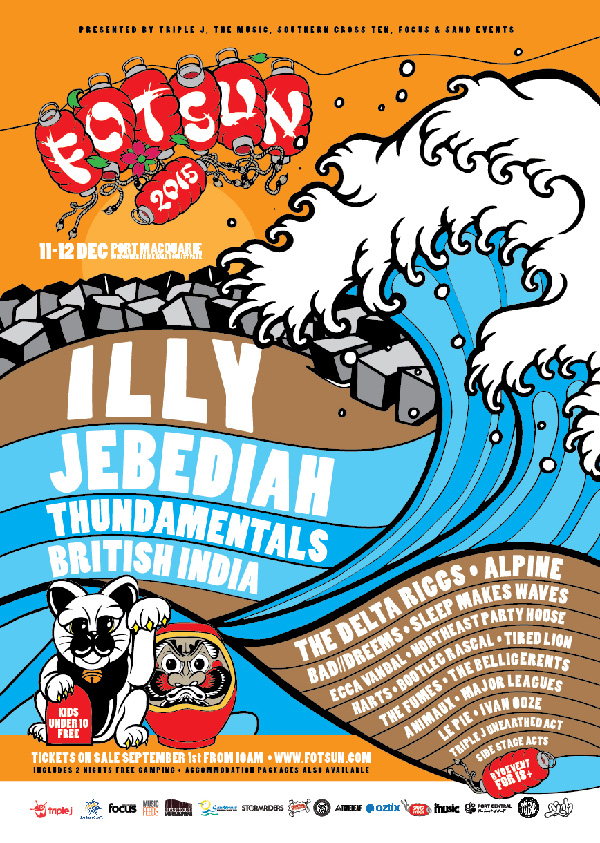 The lineup for Festival of the Sun 2015 (December 11—12 at Sundowner Breakwall Tourist Park, Port Macquarie) has now been released!
Headlining will be Illy, Jebediah, Thundamentals, and British India. One triple j Unearthed act will also make its festival debut.
This year, in addition to a mix of established and fresh Aussie music talent, the BYO event will feature an art show on December 10, to kick off proceedings. The Wabi Sabi (roughly translated from Japanese as "nothing lasts forever") art component of FOTSUN will be a first for the festival in what is sure to be the biggest year yet!
It is with great "YIEW!", as our client would exclaim, that UMM remains FOTSUN's integrated communications agency of choice, and will be entering our eleventh year of partnership with the venerable East Coast event.
In a time when music festivals aren't in the greatest of health, it's both surprising and pleasing to see that such an intimate event is still going strong. Fan loyalty obviously has much to do with FOTSUN commencing its second decade, and with a concerted PR and social media assist UMM, we look forward to it being around for many more years to come.
Tickets go on sale September 1 at 10AM.
*For more information, go here: http://fotsun.com/
*Visit FOTSUN on Facebook: https://www.facebook.com/fotsun
*Visit FOTSUN on Instagram: @festivalofthesun