Case Study
Meatstock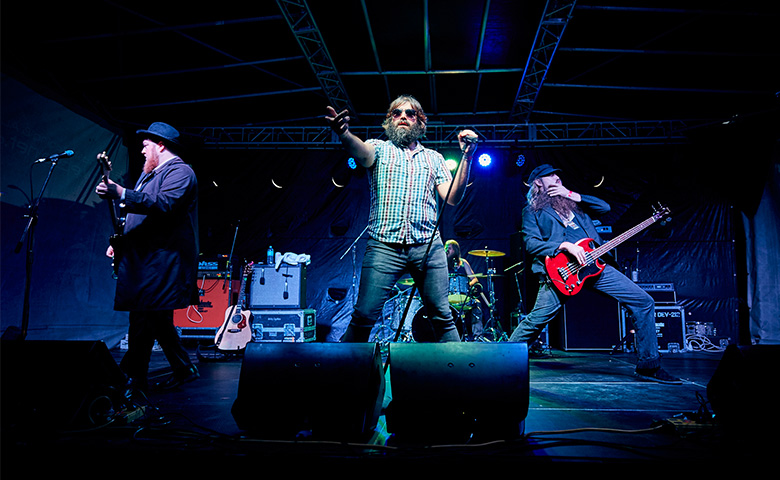 Interact with us!
Simply click and drag your
cursor over a passage of
text from the article below
to tweet or share.
OBJECTIVES
When established festival directors Jay Beaumont and Simon Luke announced the launch of Meatstock, a new Sydney barbecue festival, they enlisted UMM's PR Department to create widespread awareness of the event and its unique combination of live food, music, and competitions e.g. barber and butcher challenges.
In order to generate maximum exposure for Meatstock, UMM aimed to engage with a wide variety of media, including lifestyle, food, and music press.
It was also important for UMM to distinguish Meatstock from another Sydney BBQ festival, which was scheduled to occur around the same time.
UMM recognised that one of the key elements in building interest for Meatstock would be emphasising the broadness of its appeal. Given the directors were behind the successful FOTSUN music festival in Port Macquarie, their previous achievements were also a drawcard.
″More than 10,000 tickets were sold for Meatstock, with the opening day selling out a fortnight before the start of the event.″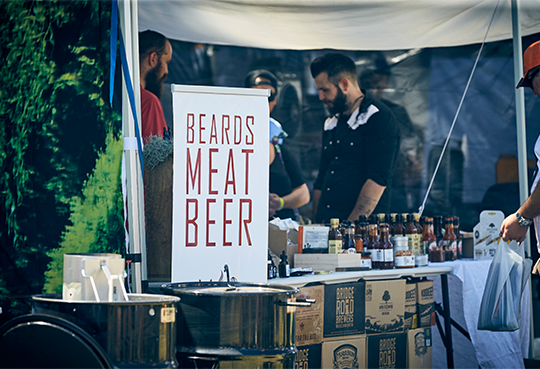 The incorrigible Johnny Wishbone, from Aussie blues rockers The Snowdroppers.
Songstress Sahara Beck was one of the early musical highlights on the Saturday, playing an eclectic mix of original songs and covers.
A small sample of the 10,000+ punters who attended the carnivore carnival that was Meatstock.
STRATEGY
UMM strategised the implementation of a positive press campaign, extending from the festival's launch in October to its activation date in February (the weekend of the 13th and 14th). The upshot of this would be the creation of long-lasting media sponsorships and establishing a firm foundation for Meatstock in its first year.
As part of its 360-degree communications campaign, UMM conducted in-house interviews with VIP butcher and BBQ judges, and television presenters Tuffy Stone and Jess Pryles, who were flown-in especially for event. UMM also arranged for Tuffy, a well-known face for viewers of A&E Australia, to have pre-event interactions with publications such as Delicious, The Daily Telegraph, and Collective Hub.
Sponsorships were put in place to raise the profile of the festival and add credibility in Meatstock's inaugural year, with Sydney entertainment guide Timeout publishing editorial content and conducting a giveaway through its website. Prior to the start of the festival, UMM co-ordinated a live segment on sponsor Triple M's The Grill Team radio show. The Music also featured a range of interviews with national competitors from the Barber Wars and Butcher Wars events.
A live television broadcast by The Today Show occurred on the first morning of the festival; SBS and Sky also attended Meatstock to film features on the popularity of barbecuing within Australia, with a focus on Meatstock.
UMM organised a variety of photo shoots before and during the festival featuring competitors from across Australia, as well as Tuffy Stone and Jess Pryles, for the Sydney Morning Herald, Daily Telegraph, and Inner West Courier.
A vast range of food and lifestyle bloggers and journalists were hosted at the event. They were encouraged to comment on the festival and use the official #meatstock hashtag, which had an extremely positive response.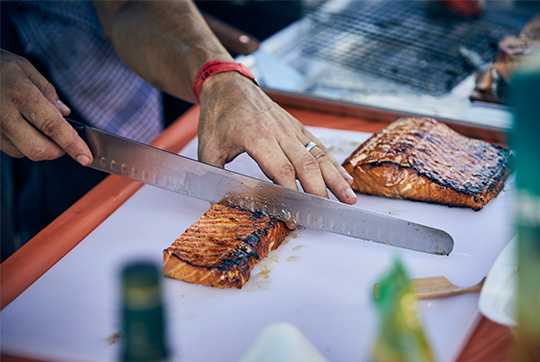 A&E Australia's Barbecue Wars ran throughout Saturday and Sunday.
Judges were treated to some of the finest cuts from around the country as part of the barbecue competition.
Former English cricketer, Andrew 'Freddie' Flintoff, converses with some of the judges from Barbecue Wars.
Jeez... it would've been terrible to have been a judge, huh?
RESULTS
More than 10,000 tickets were sold for Meatstock, with the opening day selling out a fortnight before the start of the event.
Consistent coverage was achieved throughout the five months leading up to Meatstock, with more than 130 runs across print, broadcast, and online media.
Various aspects of the festival were featured in food industry magazines, men's lifestyle blogs, women's lifestyle magazines, travel publications, and major metropolitan newspapers.
The online reportage was similarly spread across categories, with Meatstock appearing on some of Australia's biggest food sites, including Good Food, Delicious, and Taste, as well as all the major online event pages: Timeout, Urban List, and Broadsheet.
With regard to statistics, 130 total placements were achieved, there was a total ad value of $522,984.
Slabs of delicious meat wasn't the only thing getting the chop at Meatstock.
The competition was fierce during the Cutthroat Barber Wars, which attracted a steady flow of onlookers.
Perth barber Fabien Maillot triumphed in Saturday's Barber Wars.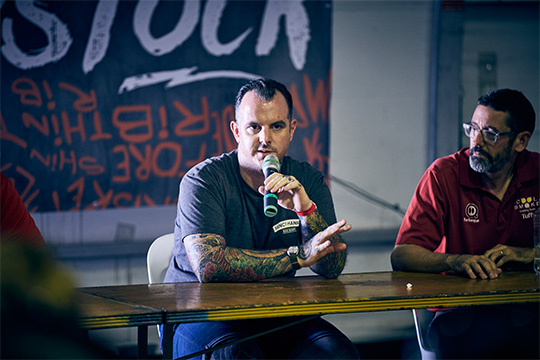 A huge crowd gathered to watch The Beards close out the opening day of Meatstock.