Case Study
ILVE Influencer Activation Photoshoot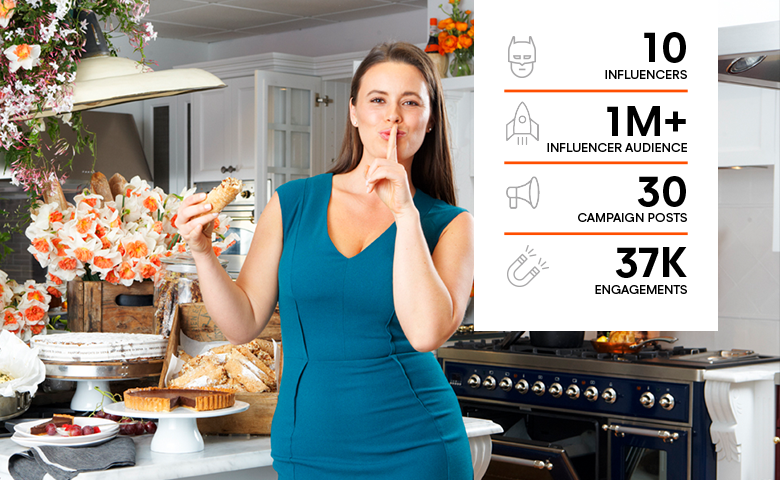 Tags
Activations, Influencer Branding, Public Relations, Social Media
Interact with us!
Simply click and drag your
cursor over a passage of
text from the article below
to tweet or share.
In order to increase awareness of ILVE's Sydney Showroom in an innovative way, UMM initiated the #GetLostInTheMoment (an existing brand tagline) influencer activation as part of its PR strategy.
In September, UMM cast 10 Australian influencers with an appreciation of style and design and a strong following of women and men, aged 25 – 55 (ILVE's core digital demographic).
UMM created a variety of rich and lush sets within the ILVE Showroom, providing an ideal, on-brand environment in which the influencers could create their content. UMM also supplied two photographers for the influencers to work with.
The influencer activation – a first for ILVE – also acted as a brand immersion evening for the talent, by which they could gain an authentic appreciation and understanding of the brand and its values. This was achieved via ILVE and UMM's staff hosting the influencers and guest brand ambassador, accomplished chef Giovanni Pilu (of Pilu restaurant), cooking with and for the influencers on the evening. Overall, this influencer marketing campaign was a winning combination of content creation and media relations.
All influencers responded extremely well to this new way of brand collaboration, with each one stating they would gladly work with ILVE and UMM again on future projects.
Results were as follows:
INFLUENCERS: 10
POSTS: 30
TOTAL FOLLOWING: 1,042,393
ENGAGEMENT RATE: 3.56%
The #GetLostInTheMoment social media campaign closely followed the conclusion of the influencer activation and built on its success, with the only difference being an increased thematic focus on the Majestic and Nostalgie Freestanding Range of cookers. Over one month, this campaign accumulated 13K engagements and 160K reach across ILVE's Facebook and Instagram channels.