Case Study
Fairy Bread Day was Nice, Different, Unusual
Tags
Activations, Media, Public Relations, Social Media
Interact with us!
Simply click and drag your
cursor over a passage of
text from the article below
to tweet or share.
THE SITUATION
Dollar Sweets is a Melbourne based and family owned manufacturer of confectionery and cake decorating products, that supplies products to all major grocery outlets, food service wholesalers and other major Australian manufacturers.

With the hugely popular 100s & 1000s being one of its hero products, it made sense for Dollar Sweets to acquire the rights to Fairy Bread Day in 2020 – an annual charity (est. in 2014) that was launched as a joke between two mates, and celebrates Australia's love for fairy bread.

UMM was approached to create brand personality and awareness for both Fairy Bread Day and Dollar Sweets in its foundational year in 2020.

Following the success of Dollar Sweets' debut Fairy Bread Day campaign, we were again asked to work on Fairy Bread Day 2021, taking key learnings from our debut year.
THE BRIEF
Bring to life the Fairy Bread Day event for a second year, evolving the brand personality, generating increased awareness for Fairy Bread Day, driving sales for Dollar Sweets and garnering donations for charity partner ReachOut.



THE STRATEGY
In entering our second year with Fairy Bread Day, we pivoted our strategy, implementing our learnings from year one to generate a bigger and better year for this national holiday. Building upon the personality of Fairy Bread Day which we established in 2020, messaging remained fun and uplifting, while opening space for conversations around mental health.

One of our key learnings from 2020 was that timing is crucial to securing media runs and so 2021's campaign kicked off earlier. This bought us more time to kick start strategic conversations with charity partner ReachOut, secure long lead media, execute a brand and website refresh and soft-launch the campaign on social platforms earlier.

The new strategy also saw a heavier focus on generating donation figures while also driving Dollar Sweets sales through supermarket stockist awareness.

A key part of 2021's strategy was capitalising on opportunities that arose organically on social media that we could tie back into Fairy Bread Day.
WHAT DID WE DO
UMM executed a 360º approach launching an integrated social, influencer, and media campaign, alongside further developing the brand partnership with ReachOut established in 2020.

UMM serviced an announcement press release to key Australian food, event and lifestyle media alongside recipe and general pitching, achieving widespread media coverage promoting the event. UMM also worked closely with the ReachOut PR team to organise interviews for ReachOut's spokesperson Tracey Campbell and ambassadors, alongside Dollar Sweets spokesperson Miranda Higgins.

UMM created and sent out 55 Fairy Bread PR kits to influencers, as well as a selection of ReachOut's youth ambassadors and government contacts. In return, influencers were asked to share content via TikTok videos, Tweets, Twitch Streams, and Instagram Stories and Posts with their audiences.

Following a viral video of a giant portrait of Dan Andrews made from Fairy Bread, UMM secured and organised the public art instalment with Melbourne comedian and artist, Casey Gothard of a Fairy Bread inspired Kath and Kim mural. UMM partnered with premium local hospitality venue, Brunetti Oro, to host the large scale artwork which in turn, went viral. UMM organised a photographer to capture the instalment in real time which was then shared with the media alongside details of the event.

In a supporting social campaign, we reinvigorated Fairy Bread Day's Facebook and Instagram audiences through a series of memes, recipe posts, charity awareness assets and Dollar Sweets promotional pieces all striving to support sales, drive donations and create hype around the day.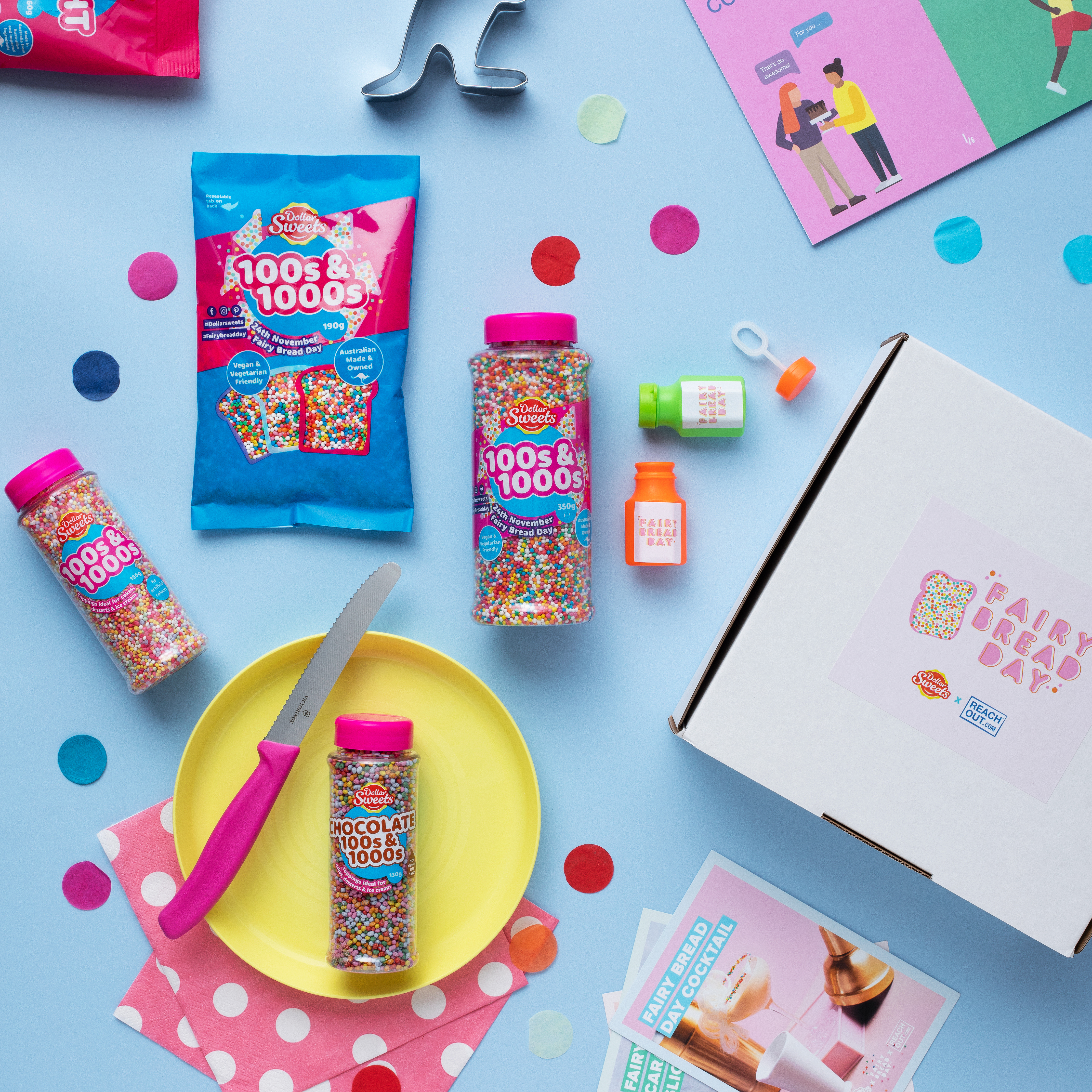 RESULTS
TESTIMONIAL
"We engaged UMM to help us bring a fledgling event to life. They developed an integrated marketing strategy, brand style guide and seamlessly executed the pivotal PR and social media components – all within a tight timeframe and budget. The results from year one exceeded everyone's expectations. At every point their team was available, engaged and seemed genuinely excited to be working on our project."
Ruth Lloyd
Marketing Manager
Dollar Sweets
In the market for a creative comms solution?
You're in the right place.
Click here to get in touch with our team.