Case Study
Monteith's 100
Tags
Activations, Creative, Social Media
Interact with us!
Simply click and drag your
cursor over a passage of
text from the article below
to tweet or share.
OBJECTIVES
Drinkworks is a premium beer and cider sales and marketing company for Tiger, Bintang, Estrella Damm, Old Mout and Monteith's.
Drinkworks approached UMM, after two years of UMM successfully marketing Tiger Beer in the Australian market place.
UMM's brief was to market Monteith's apple cider in the Australian market – at this stage, cider was a new category in Australia. There were only a handful of players in the market, namely long standing UK and Irish exports – Bulmers and Magners.
The marketing and communications strategy was to stimulate demand for sales in bottle shops and bars.
Monteith's 'Always Putting in 100%' Facebook assets.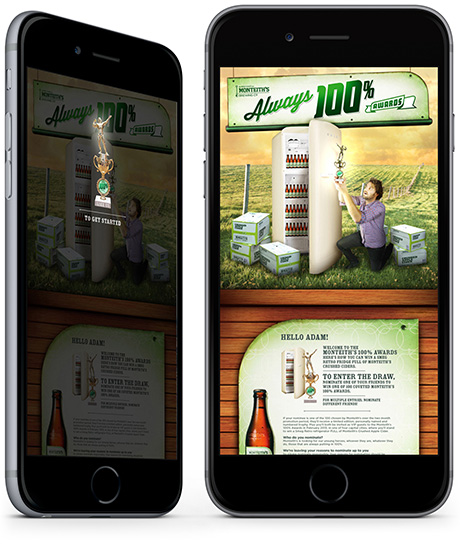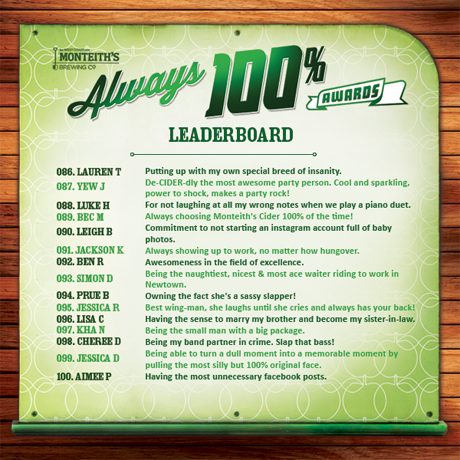 DELIVERABLES
Develop and build a unique brand personality that would resonate with our highly judgmental and critical demographic of M+F, living in urban centres, aged 18–30.
Define and create stories around the experience and Monteith's 'moment' i.e when and where to drink a cider.
This was done through a series of integrated communications campaigns encompassing Creative, Social Media, Activations, Public Relations, and digital advertising.
During this period, UMM executed four major campaigns focusing on the public submitting 'the perfect spots' and 'perfect bar settings', featuring the respective hashtags #Monteiths100 and #MyMonteithsBar.
Influencer strategy involved marketing to the burgeoning and socially influential 'hipster' demographic in urban centres in Sydney and Melbourne.
Monteith's Friday Shouts centred on UMM sourcing and forging relationships with Monteith's bars around the country, all as part of a program where one bar was honoured per week.
Monteith's 100 Club branding logo.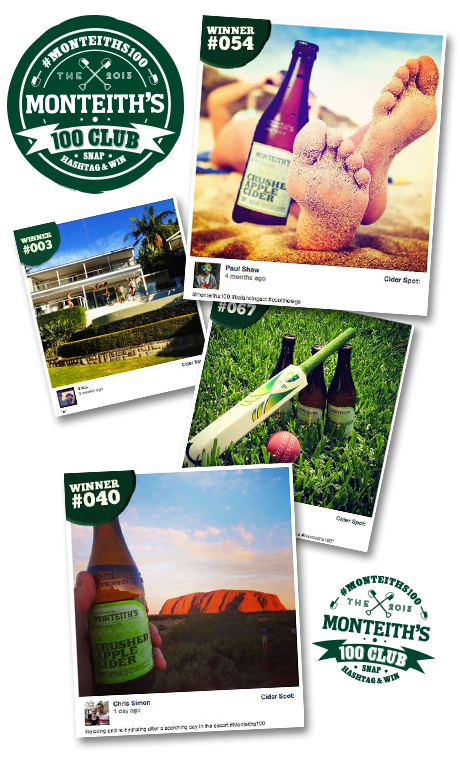 RESULTS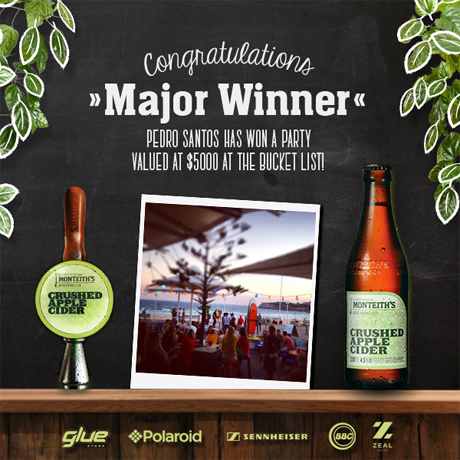 Monteith's 100 Club Winner, Pedro, at his party at The Bucket List, Bondi.
Monteith's activation at The Bucket List, Bondi Beach.
The Bucket List, Bondi, ready to pop.
A Facebook post following the activation.