Case Study
Fairy Bread Day's Impact: $80k Raised And Millions Reached
Tags
Activations, Media, Public Relations, Social Media
Interact with us!
Simply click and drag your
cursor over a passage of
text from the article below
to tweet or share.
THE SITUATION
UMM has worked closely with Melbourne-based confectionary and cake decorating product manufacturer Dollar Sweets since 2020.

A national brand that supplies products to all major grocery outlets, food service wholesalers and other major Australian manufacturers, Dollar Sweets acquired the rights to Fairy Bread Day in 2020.

With the hugely popular 100s & 1000s being one of its hero products, Dollar Sweets and Fairy Bread Day was a natural pairing

.

Since 2020, UMM has worked with Dollar Sweets to create, develop and evolve the brand personality of Fairy Bread Day, generating awareness and engagement for the event over the past three years while also driving Dollar Sweets sales, establishing a strong charity tie and a meaningful presence in the Australian psyche.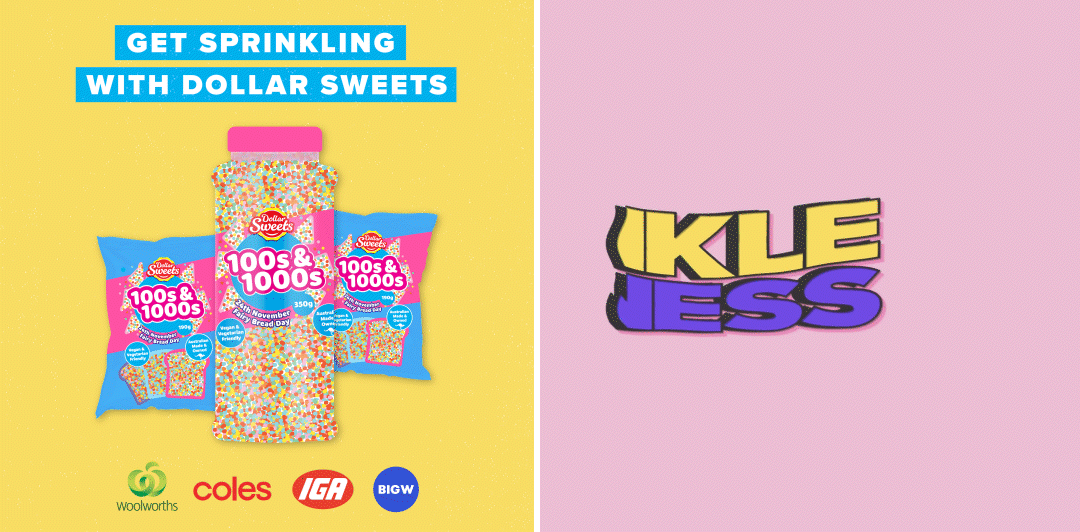 THE STRATEGY
Over the past three years, UMM has

annually executed a 360º approach, launching an integrated social, influencer, and media campaign

in the lead-up and post Fairy Bread Day, 24th November.

Each year we have evolved our approach,

taking into account changing objectives from Dollar Sweets, emerging social, media and influencer trends, as well as key learnings from sales and donations figures throughout the campaign duration.

Take a closer look at our

2020

and

2021

executions further at the links.

A key part of our strategy since the inaugural year has been

establishing, fostering and leveraging a partnership with a renowned Australian charity that complemented the message of Fairy Bread Day Charity partner

, generating donations for this charity while amplifying their values alongside our own.

Positioning Dollar Sweets as the go-to brand for 100s & 1000s on Fairy Bread Day while generating brand recognition, UMM's approach was to stay both proactive and reactive, jumping on related trends and topical conversations to further amplify the Fairy Bread Day event.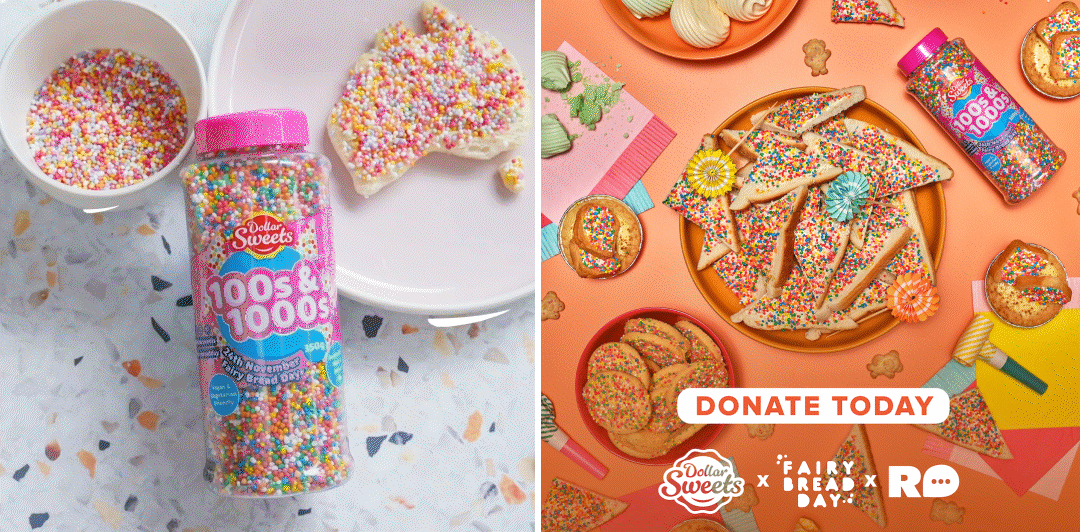 WHAT DID WE DO
UMM

developed and evolved a bright, fun, and fresh brand

for Fairy Bread Day, including a logo, slogan,

website

, and social channels, cultivating a distinct tone of voice.

UMM established a partnership between Fairy Bread Day and the mental health charity, ReachOut.

The charity partner was key in amplifying the meaning of Fairy Bread Day, and ReachOut's focus on youth mental health and digital relevancy throughout the pandemic period made them the perfect fit.

The charity partner also created a deeper meaning for our audience, inspiring Australians to host their own Fairy Bread Day event, gathering in the workplace, at school or at home to enjoy Fairy Bread while also raising funds for the cause. We were able to

leverage media opportunities thanks to the partnership, as well as creating meaningful influencer partnerships

, speaking to the importance of mental health and 'sprinkling kindness'.

UMM has consistently liaised with

key media publications across television, print, radio and digital

, in order to keep Fairy Bread Day front of mind in the lead-up and on the day on the 24th of November.

In 2021, following a

viral video

of a giant portrait of Dan Andrews made from Fairy Bread,

UMM organised the public art instalment with comedian and artist Casey Gothard of a Fairy Bread-inspired Kath and Kim mural.

UMM partnered with premium local hospitality venue, Brunetti Oro, to host the large-scale artwork, which in turn, went viral. UMM organised a photographer to capture the instalment in real-time which was then shared with the media alongside details of the event. You can find out more about our 2021 stunt

here

.

UMM has recruited a slew of nano, micro, and macro influencers in order to herald the Fairy Bread Day message to the masse

s. From TikTok to Instagram, chefs to mummy bloggers, we have worked with over 100 influencers over the past three years.

UMM inherited existing social media channels which we transformed with new creative,

harnessing a highly engaged audience through a range of recipe posts, memes, engagement posts, user-generated content and event and charity awareness assets.
Fairy Bread Day Lifestyle Photography Captured by Brodie Nalywajko
Kath & Kim Fairy Bread Day Mural at Brunetti Oro Cafe, Flinders Lane Melbourne
Fairy Bread Day Lifestyle & Recipe Photography Captured by Brodie Nalywajko
RESULTS
We have been successful in creating and evolving a brand for Fairy Bread Day, balancing both a message of charity while

cementing Dollar Sweets as the go-to sprinkle brand for Fairy Bread Day

.

From both public donations and from 10c of each sale of Dollar Sweets products during November,

we have successfully raised $80,604.87 for ReachOut.

Our social campaigns have reached

3.0M people, generating 3.6M impressions, and 331.9K engagements.

Through our efforts, we have

driven 18.7K link clicks through to the Fairy Bread Day website and donation pages

. Our yearly Facebook events have generated 2.9M reach, and 37.4K RSVPs, hosting engaged conversations from people around Australia and the globe participating in Fairy Bread Day. Across Facebook and Instagram, Fairy Bread Day has accumulated a total channel following of 19.7K.

Through both long-lead and short-lead media pitching, Fairy Bread Day generates consistently strong media reach. During our three years working on the campaign, we have successfully generated over

57 million reach

.

Through a dedicated influencer program, we have reached 8.0M users with over 100 influencers. Not only was the influencer content generated effective in garnering awareness for the event and the cause behind the event, but it effectively created a variety of high-quality content that we were able to repurpose on brand channels.
TESTIMONIAL
"Fairy Bread Day is about to kick off its 4th year and UMM have been with us every step of the way. We initially engaged them to bring together what was a pretty green concept. Three years on, we now have an established brand, a loyal social media following and year on year our brand awareness grows. The unwavering enthusiasm of every member of the Team that is involved in our event also makes them an absolute delight to work with. We look forward to many successful years ahead!"
Ruth Lloyd, Marketing Manager, Dollar Sweets
In the market for a creative comms solution?
You're in the right place.
Click here to get in touch with our team.